By motorbike from Prague to Sahara – part 8
Spanish coast
from Tarragona to Valencia
Nostalgia kicks in. I lived in Spain for over 3 years, but about that in another, slightly longer, travelogue.
I was in Spain for the first time, but it was a while ago. I was around 20 years old and it was perhaps my first vacation outside the Czech Republic without my parents. My friends and I went to the town of Peniscola. I can only recall a few memories from it. Santa Claus, a broken tooth, a stolen watermelon and a guy who robbed the company where he worked so he could go with us to Peniscoli.
I travel a bit to be able to return to Peniscola after years. It's been more than half a decade, so luckily no one recognizes me here 🙂
Unfortunately, I don't recognize it here either. Something tells me that the castle on the protrusion of the land into the sea is a bit familiar… so I'll take a helmfie with it (helmet+selfie = helmfie), have a fish for lunch (yup, I'm not in France anymore, so I can afford eat in a restaurant too 🙂 ) and continue on my way.
Today I plan to arrive in Valencia, it's about 260 km, Google Maps says 2.5 hours, so I'll be there in 5-6 hours.
Cycling around Europe around the coast has been a dream of mine for several years. I imagined how breathtaking it would be to see the sea constantly on one side of the cliff and relax in seaside villages. The reality is always a little different, and even though I've been traveling around the coast for a few days now, I've seen the sea about three times, and once from Mekáč, when I stopped for coffee and wifi. Both cost a fart, but served the purpose. And the romantic view with coffee in hand was unfortunately only spoiled by a green waste container. It all looked very nice, it was all worth the fart, but more importantly, I still felt really good.
It's like when you watch travel photos on Instagram, you think how beautiful it must be there, and when you go there, you see that it's actually much more ordinary than you imagined. When you come to terms with it internally, you will start to enjoy those places again. But it's a process.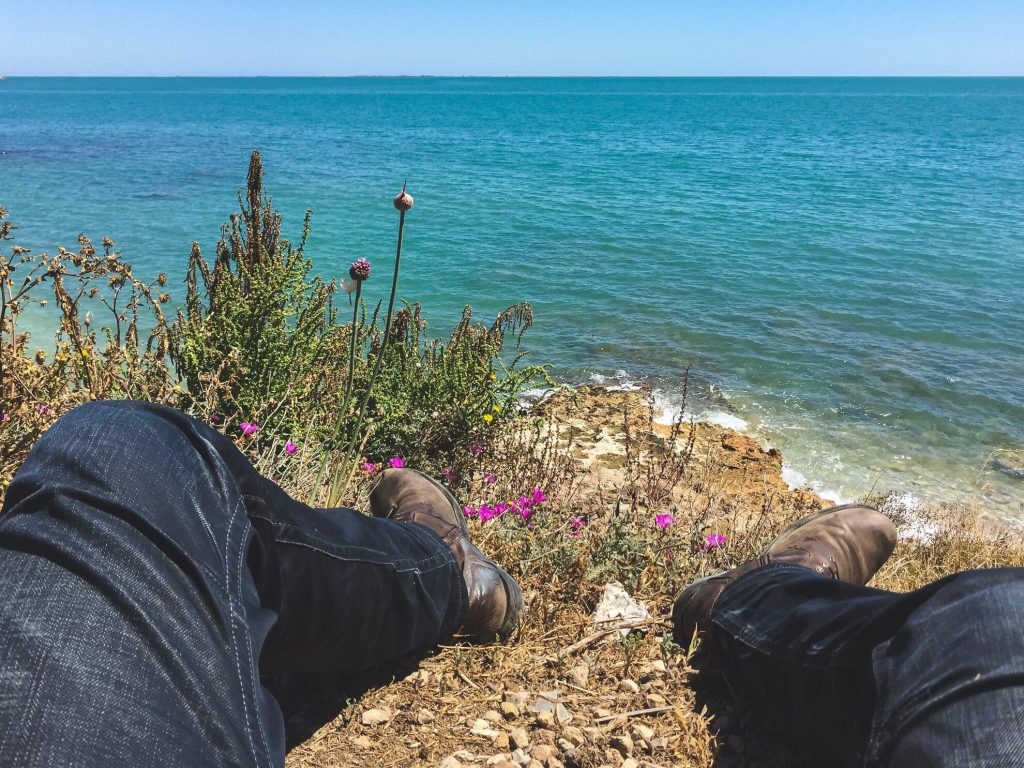 Valencia is only a few dozen kilometers away and I reach the town of Benicassim. It is an interesting place by the sea. Interesting mainly because a music festival is held here every year, where world bands come. But what is more interesting, the festival is aimed at the English. When I was here at the festival with my friends about 5 years ago, we were the only ones who spoke Spanish in the entire area.
It's not always fun to mate with unchained Anglans. The English are known for their politeness. They are polite at all costs and can control themselves perfectly. But that comes at a price. As soon as they get drunk, self-control takes over and all that suppressed rudeness suddenly explodes like a pop.
When I think of it, my knees immediately knock… not from fear, but from trying to shake off the memory of the English urine on my feet. That's when an English gentleman in the crowd started defecating all around him, in front of him and on everyone around him… Viva la Anglia…
Why do such frenzies only remain in my memories? 😀 But there is also a bright side. Imagine the idyll: you wake up in a tent, go for a swim in the sea, then sunbathe, a fish for a place to live, then you go to a concert of your favorite band, wake up in a tent and go for a swim in the sea, sunbed, fish, end… .
I arrive in Valencia in the late afternoon. I stay in a hostel and go sightseeing and shopping. Valencia at sunset beckons me for a longer stay.
Valencia is the city of opera and paella. You can't think of a better combination.
The next day I walk through Valencia again. This town has something going for it. It wouldn't quite be a vacation, but the idea of a longer stay, maybe half a year or a year, seems like an interesting idea to me. This city seems to know how to live life to the fullest.
There are some holidays going on right now, it probably won't be Easter. Perhaps some local fun. Who knows, I'm losing track of time a little. People are here in costumes and are happy to be photographed by others.
To stick to my habits, I venture off the main streets and head into the dusty little streets. For me, from that moment on, Valencia is a dirty city full of graffiti of all kinds. I like it here, it has a young spirit. Two streets away, families stroll in their castle dresses, and a few streets away there's a punk-soaked community. One must live well here. But it's time to move from the place Cartagena is waiting!