By motorbike from Prague to Sahara - part 7
from the magical Séte
to warm Spain
I'm leaving the flamingos
It got me excited and I'm already planning in my head how I'll come back here one day and spend a longer time there. I probably won't discover much more here, but I'll certainly find a pleasant relaxation here. So something for retirement 🙂
I planned a distance of over 400 km for today's trip. Google Maps tells me I can do it in 4.5 hours. But for me, that means I'll be on the road for about 8-9 hours. It sounds weird, but it works out pretty much like this. It is necessary to take into account breaks for the buttocks, lunch, stops in cities and at interesting places. I prefer to leave early in the morning so I don't have to drive after them.
I come to the motorcycle and behind the handlebars I find a green paper with a large POLICIE SÉTE FRANCE stamp. I'm sweating profusely. It is clear to me that I will have to take out a mortgage for the fine in France. I quickly rush back to the hostel and ask the reception what I did?
All good… this is a warning that there will be a movie being filmed in the street and that I should repark. Enough drama in France! It's time to get out.
On the borders of France and Spain
Roadside signs indicate that I will soon be greeted at gas stations by attendants with the iconic HOLA! My bike does not have an indicator to tell me the condition of the fuel tank. I know one thing, but for sure… there isn't much there anymore and gas is damn expensive in France and I'm close to Spain where it will be a lot cheaper. But I still don't want to leave France, and I see a village on a hill in the distance, not far from the border line. An ideal farewell to France, lunch in a remote village.
I'm still in France, so apart from the fact that petrol is expensive here, everything else is also expensive. And so when I say "lunch", it means, translated into Andean, that I will have the cheapest thing that exists here. Camembert and baguette. I may have spent a week in France… well, maybe seven days, but I managed to make more camemberts than
Monty
could ever think.
Until I discovered traveling on a motorcycle, I never really enjoyed traveling itself, quite the opposite. It's a stressful thing. On a motorcycle, that's different. That's a Zen thing. Unless you're driving. It is that freedom and spontaneity that drives your actions. Out of nowhere, you go somewhere you weren't originally headed, you discover a place that doesn't exist on the maps, you lie down there, stare at the stupid thing, and you're fine.
It does not make any sence? So what… 🙂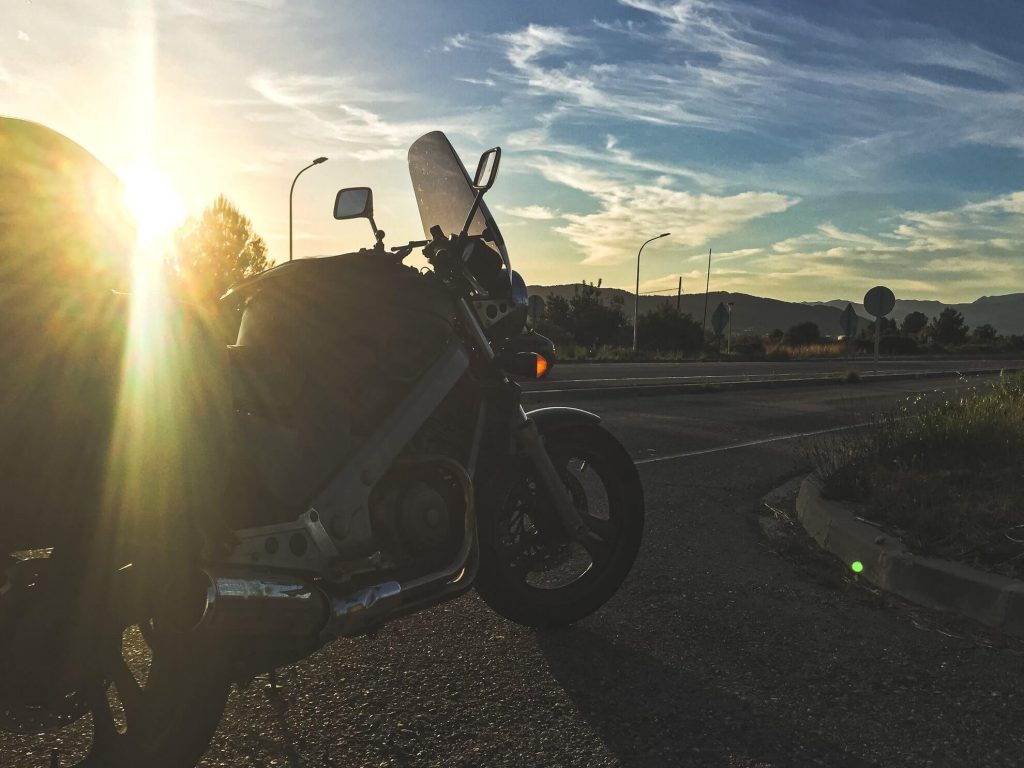 I continue my journey and my ass is already hurting so much that I stop every 20 minutes to at least stop feeling the pain for a while. I mostly try to get blood in my buttocks by slapping them with my hands and banging them with all my might. It must certainly be an interesting sight for passing families with children. How many children's souls did I destroy with this traumatic experience, who believed that such a thing was only a punishment.
What was, but the punishment was to drive around Barcelona. I've already sat on a motorcycle alternately only on the left or right thigh… it sounds silly, but it's such a peculiar acrobatic exercise. Something similar can often be seen in motorcycle races on circuits, where the rider's knee touches the ground on a tilted motorcycle during turns. I also practiced something similar, but the bike was completely straight and I didn't touch anything with my knees. Here I was already starting to cause trauma to myself. And that's mainly because when you pass Barcelona, you'll drive onto a bypass where you have nowhere to stop for an hour. This was, in a word, purgatory!
I'm out of Barcelona and heading to Tarragona, it's getting dark.
Tarragona and trable with self-checkin hostel
I arrived in Tarragona. It is a medium-sized city. I have a hostel booked. I made the reservation right after breakfast, just before I hit the road. Did I mention that I have no signal or internet on my mobile? Well, in this case it didn't really pay off. Sometime during the day, the hostel allegedly sent a code to my mobile phone, which I could then use to get inside the hostel. It was a self-service hostel with no reception. I must have overlooked that when booking and now it was too late to do anything about it. The bell did nothing at all. Being in a foreign city at night and having nowhere to sleep? Nope!
Fortunately, I always have an alternative ready, and unlike Avignon, it worked out here. A few blocks away, I ring the battered door of an unfamiliar building. Someone has set up a hostel here in a punk way from the second floor. I didn't feel very safe here, and I didn't even mind that it looked like a drug dealers' den. Especially when I don't have to sleep on the street.
I get up in the morning and do a quick tour of the city. I will enter the sea for the first time. Icy as a pig! I'll take a look at the local monuments, the colosseum and head further south…