By motorbike from Prague to Sahara – part 9
from Valencia to Cartagena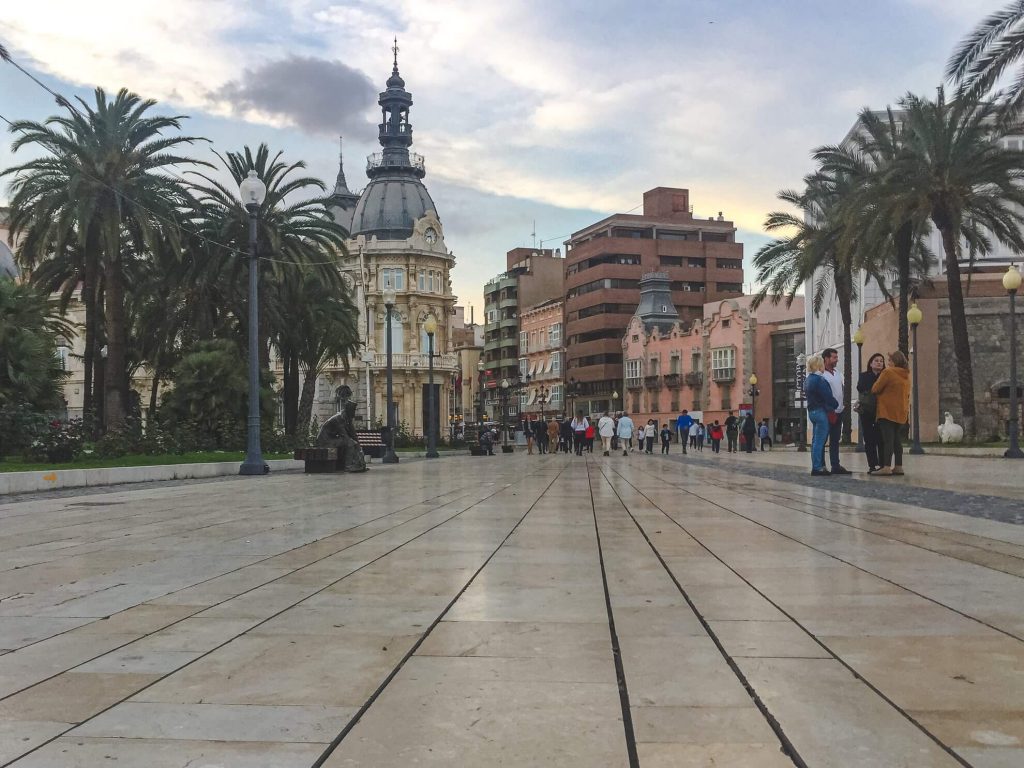 When I first arrived in the city of Malaga (south of Spain) years ago, I know that the marble paving of the sidewalks in the city center easily stole my attention. I thought it was absurd. What happens when it rains… luckily, that doesn't happen that often in Spain. If, God forbid, it snows, 50% of Malaga's population will die on that marble.
It sounds like a joke, but it's not. I remember how people fell in Granada, when there was only one single day in the whole year 10 cm of snow. It was like a black and white Charlie Chaplin slapstick, wherever you look, there's a Spaniard rolling around with his legs up. And they didn't have marble sidewalks in Granada.
So when I moved from Valencia to the city of Cartagena, the first thing that caught my eye here was again the marble paving. Together with the beginning of the rain, I stepped on the slippery tiles with great respect. The local natives looked at me a bit like an exotic animal, but I can't risk a bumped ass, she's been experiencing too much lately.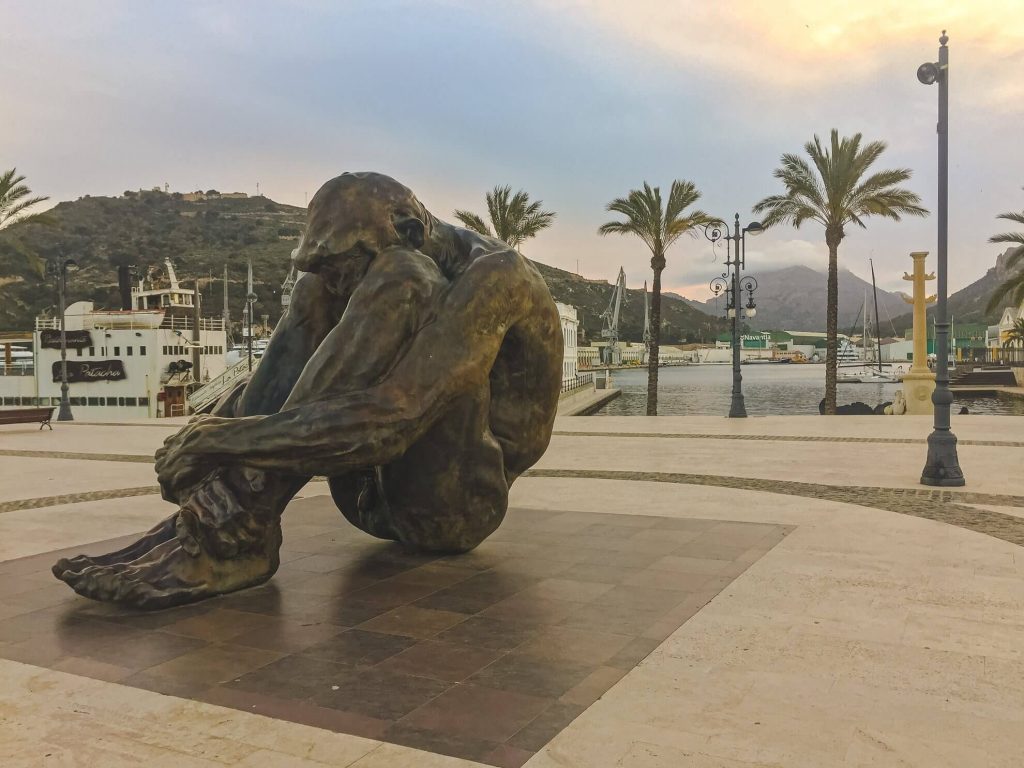 I sit down with the dinner I bought from the convenience store on the raft in the mini-port and enjoy the view of the cloudy mountains. Unlike the overgrown and depressed naked statue, I'm in a good mood and feeling fantastic.
I admire the whale's butt and enjoy the magical atmosphere. I didn't feel extra safe walking from the hostel to the port for some reason, but everything is so peaceful and calming by the water that I really enjoyed the zen moment. Until the moment when it started raining vaiglas around. I was sitting leaning against the wall in front of the statue of a small plague column, so I was quite invisible to the 2 teenage girls who soon sat a few meters above me. Unfortunately, it slightly threatened my life… constantly flying eggs 🙂
I was unmoved, but I persisted in my position, I would not let the youth drive me out of such a brilliantly found place. I continued to eat my convenience store dinner and eavesdropped on their conversation. After a while, I realize that even though I speak Spanish fluently, I don't understand a word fluently. 4.5 years spent in Spanish-speaking countries does not bear fruit.
Nevertheless, I feel good in Spain. Even if I don't understand them, I'm comforted by the feeling that I can tell them a lot. I don't accept that they don't understand my Spanish either.
The journey continues relatively smoothly, the timetable is working and I am only a stone's throw away from the port where I will embark for the transfer to Morocco. I'm leaving for Malaga tomorrow. My buttocks are waiting for the Middle Ages with lanterns in the form of a 400 km long journey.
My convenience store dinner is over, the bell rang, and the whale's butt still wasn't over… and if the floods don't come, it's probably still there today. Go check it out 😉