the most feared city in Europe
It's 2023. Wars left, right. No sign of the pandemic. But it's November, a time when daylight hours are getting shorter, student skirts are getting longer, winter is curling its toes in pointless barefoots, and the autumn doldrums can't be fixed by a sip of beer. Radical action is needed. Click Kiwi.com and the search is on.
A five-hundred-dollar ticket to Marseille is in the bag, and it's worse on the way back. Three times worse. It's even worse with accommodation. I'm flying for 14 days and accommodation is 12 grand in the cheapest hostel.
I'm hoping that at least I won't have a fart sleeping on top of me and the other 6 roommates will be conscious, bright people. Spoiler: They're not. They never are 😀 The downside of hostels and shared rooms is that there is usually at least one person who goes to bed at 3am, lights up the whole room, talks loudly to God knows who, puts his stuff in his locker for about an hour and then of course doesn't turn it off…. moment! Am I describing myself? I hope not…
My flight is at 6am and in order to get there on time I have to take the night bus at 3am, i.e. stand at 2am. Ryanair still sends me a last minute notice that the airport is currently very busy and that I had better arrive 2.5 hours early. With the experience of a travel master I ignore this, 2 hours in advance is enough. I arrive at the airport and there are 10 people ahead of me in the check-in line. That's all this airport can bang out. It's one group with no luggage. I also only have a backpack to take on board. So within about 2 minutes, the lady behind the counter has nothing to do because if you don't have anything for the hold, there's no point in coming here at all. You can go straight to the departure gate. So I have two hours before my flight. I fly a lot, but this is the first time I haven't put anything in the hold. You learn by making mistakes… Let's see.
Another lesson, printing out a boarding pass for Ryanair obviously doesn't make sense. If you put it on your phone using the app, it's fine for Prague airport at least. Their scaremongering on the website that you'll pay a 55 Euro fine without printing it was a bit suspicious to begin with. Priceless experience.
The flight is surprisingly smooth, there is plenty of legroom, no one clapped after landing and it is raining here in Mareille. 12 degrees doesn't exactly warm the soul either. I'm talking about the temperature and not the beer, mind you.
Right in front of the airport is a bus terminal with a stand where I can buy a ticket to the city center for 10 Euros. The bus runs every 10 minutes. I can speak a complete folk fart in French, but I can certainly get by with English, Bon jour and Merci Beaucoup.
After an hour's journey by bus, I arrive at the station not far from the center of Marseille. It's a 15-minute walk to the hostel, so I'll at least look around on the way. Looks like she only eats kebabs here and nothing else. The shops are very oriental. I don't feel like I'm in a European country yet. I'm at the hostel too early, check-in is at 3 in the afternoon and I don't even see ten in the morning on my mobile. I lock my backpack in the locker and go for my first walk in Marseille.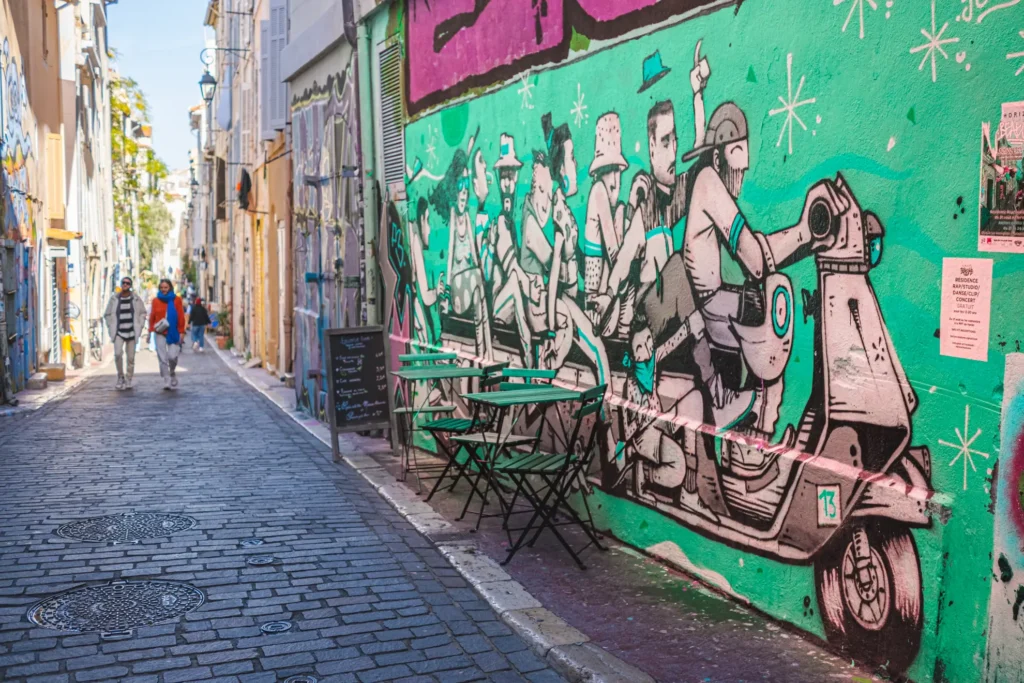 As always, I'm first drawn to the sea, so I head straight there. Along the way I pass one of the oldest parts of Marseille, le Panier. It is a picturesque district with narrow streets, interesting graffiti, mysterious shops, restaurants and cafes.
After a while, I appear in the square with the Cathedral Mayor, which is very prominent and gives the impression of importance. Right next to it, you can see the museum of civilization by the sea, which is mainly interesting for its modern architecture. So the museum stands out next to the ancient parts of the harbor and the towering lighthouse or defense tower? Hard to say. It's probably both together.
I slowly walk around the harbor where hundreds of boats are parked. Small, tiny and above all masts obediently reporting sailboats. I walk past the stalls where fishermen sell fresh fish and one of them is putting a fairly large and especially live octopus in a plastic bag for a customer. I haven't slept much, so maybe I'm just awake.
In a little while, I'm training my lungs on the hill and I'm heading to the Basilica of Notre-Dame of la Garde. Quite often I come across a vintage car or a half-broken Vespa (scooter). It's stylish here, it has to be left.
The basilica should be the most interesting vantage point in the city. Both the surroundings and of course the basilica itself, which is truly impressive.
It is here at the highest point of the city and can be seen far and wide. The whole city spreads out around you like spilled marmalade. The whole of Marseille is surrounded by a mountain range that is not significant, but not negligible either. It's a look that won't put you on your ass, but won't let you take your eyes off it. It's a bit windy here and I'm starting to freeze. It's almost 3pm and it's time to go back to the hostel and finally check in and get a good night's sleep. In the following days, we will test how it is here with the security.