The second day in Marseille and I'm off to the sea again, but this time I'm headed for the beach. It's about an hour's drive. I'm hanging around the center a bit because I need to buy an SD card for my camera. I can't find electronics shops, but small shops with phone cases and their accessories will do eventually. I visit two and notice that the vendors are always gentlemen from North Africa. Gradually I find out that their representation is significant here. They are smiling gentlemen and they try to help me. And they helped too.
I head towards my destination and gradually meet more of these Africans, sometimes they try to stop me with a question and I just report that I don't speak French, they apologize and I move on. I also meet the police, the strange thing about them is that they wear body armor. Maybe because of the cooling. I continue on and notice more and more chains on all kinds of parked scooters and motorbikes. Not even Kunta Kinte in Kořeny had to carry such large chains with him. After a while I meet a car with a broken window. I began to fear that I would see more of these… but it didn't matter. One sees something like this only twice in 40 years… once in Marseille and then in Hostivař in Prague.
I want to shorten my route with a shortcut that I can look up on Google Maps. It's strange that there are two police vans parked in front of this alley and there are 3 policemen. I go around them, they don't even notice me. Maybe if they notice, they'll stop me. After about 200 meters I come across tents, lots of tents… I continue but slow down. My pants are starting to fall down because I'm half scared. A few more tents and 3 suspicious gentlemen are standing in front of me and they are already turning and staring at me. Well, I stare too, but how to get out as soon as possible. I turn on my heel and fall back to the police vans with a brisk step again. The guards have already registered me this time and are just raising their eyebrows. I walk past them, they are probably happy that they don't have to deal with any unpleasant experience from the tent city with me. So it's a joy on all sides.
The strange thing is that people here immediately identify me as a tourist. I'm wearing jeans and a jacket, nothing special, no special features, I'd say… but even people on the street start talking to me in English instead of French.
Emotionally, after the first 3 days, it's not particularly pleasant here, and you're constantly looking over your shoulder and thinking a lot about where to go. I often like to get lost in new cities and discover backstreets, here I look at them for a long time and wonder if I'm in the right neighborhood.
In the evenings, I am in a common room with other people staying and writing travelogues. Two security guards have been sitting here with us since the late hours. It almost feels like the good old days in Colombia.
I arrive at Plage de Maldormé. I'm wearing jeans, a sweatshirt and a jacket. I walk past girls who are sunbathing with stones in the bottom of their swimsuits, and a few individuals even venture into the water. The more spirited also have wetsuits. The more adventurous and enterprising ones and harpoons.
There are a lot of people, some in bathing suits, some wrapped up like me. I find my spot on the rocks and lie down to ease the way for the sun's rays to supply vitamin D3.
The next day I set off here again equipped with a baguette, Camembert, tomatoes and a mini-bottle of white wine. Here you need to sunbathe with elegance.
On the way back to the hostel, I discover a bay with a small charming port, Port du Vallon des Auffes. It is separated from the sea by an arched stone bridge (it will certainly have an architectural name). It's already in the shadows this early in the evening, but I can imagine what it looks like here during the day. Like from some old French movie about sailors who used to come here to fortify themselves with a glass of wine before heading out into the rough seas.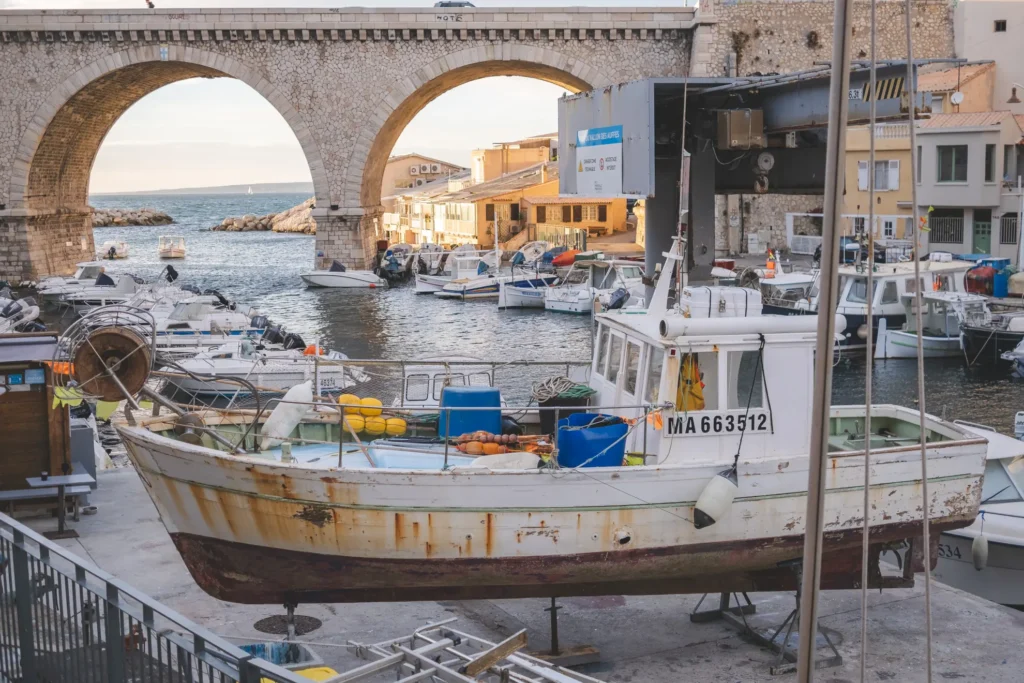 It's a little after five and sunset has already begun. Marseille has its own romantic charm. Constantly thinking about safety can add a bit of unwanted excitement to it, but maybe it's just enough to choose appropriate routes and not experiment with shortcuts in back alleys. But then where does the satisfaction of discovery and getting to know each other disappear, that's what people actually travel for.
I will be in Marseille for another 4 days, then to Montpelier for 4 days to compare them with, and then back to Marseille for 3 days. So let's see what else this port city can offer.